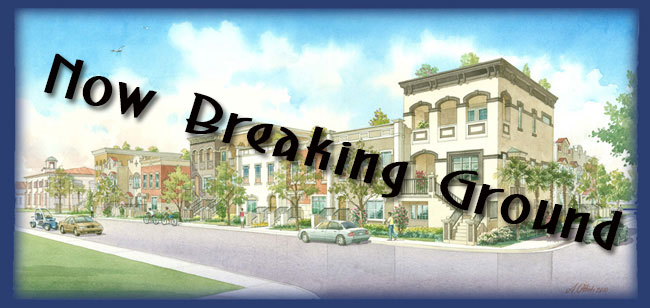 OUR NEWEST PROJECT:
W.C. GRAND, DAYTONA BEACH, FL
THE W.C. GRAND IS A NEW DEVELOPMENT PROJECT ("RE-DEVELOPMENT") THAT WILL BE COMPOSED OF 17 ROW-HOUSE STYLE HOMES LOCATED IN THE SOUTH ATLANTIC
REDEVELOPMENT AREA. OUR TEAM WAS SELECTED BY THE CITY OF DAYTONA BEACH IN 2009 TO REDEVELOP THIS AREA. E.J.S. DESIGN/CONSULTING HAS DESIGNED THIS PRODUCT TO BE AN ALTERNATIVE TO THE TYPICAL STYLE OF HOME OFFERED TODAY. THE DESIGN IS REMINISCENT OF THE OLD "ROW-HOUSE" STYLE HOME WITH FLORIDA INFLUENCES. NEW TECHNOLOGY AND ARCHITECTURAL FEATURES ARE PRESENT AND GREEN CERTIFICATION WILL BE AT THE FOREFRONT. E.J.S. IS HAPPY TO BE PART OF THE DEVELOPMENT TEAM AND WILL BE ACTING AS CONSTRUCTION MANAGER AND GREEN CERTIFYING AGENT FOR THIS PROJECT. SEE BELOW FOR MODEL LAYOUTS, ROOF TOP TERRACE LAYOUTS AND ELEVATIONS...